Booking Policy
Booking Policy: The earlier you book, the better chance we can accommodate you. Our half-day and full-day tours can usually be booked a few days in advance, and sometimes even on the same day. In the summer months however, don't count on it. Overnight cruises should be booked well in advance.
Reservation Policy: A deposit of 25% is required to confirm space on our overnight tours, charters, and sail training courses, with the balance due 45 days prior to the departure date. A credit card guarantee for the entire amount will reserve space on a day or half-day sail.
Private Cabin: There is a 50% surcharge if you are traveling as a "single" and prefer to have your own private cabin.
Cancellation Policy for Cruises and Day Sails: If you cancel your reservation within 15 to 30 days of departure you will be charged 25% of the charter or course fee. If you cancel less than 15 days for an overnight charter/cruise there is no refund unless we find another client for the boat. If you cancel less than 2 days prior to departure for a day or half day sail there will be no refund also unless we find someone else to replace you.
Payment: We accept cash, personal check, Master Card, and Visa. Most products can be purchased online HERE.
However, some trips take a degree of customization so we will have to work with you to to establish the details then take the payment by credit card over the phone.
We also take Interac email money transfers – a very convenient method if you do internet banking. If unfamiliar with this method, your bank can give you information (only available between Canadian institutions). Note that all Prices are in Canadian dollars and are subject to a 5% tax.
GIFT CERTIFICATES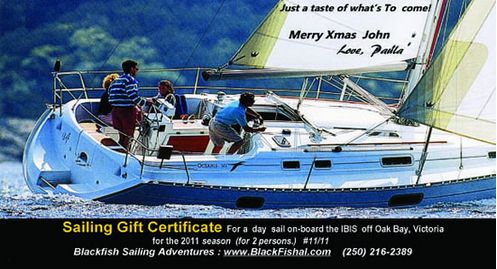 Gift Certificates: We can provide a personalized gift certificate for any of our sailing trips and courses. This certificate can be made out to whomever you desire and personalized as shown. You can pick up certificates at the office or we could send them to you by E-mail or by post.
Conditions: Unless otherwise specified Gift Certificates can be used any time during the sailing season in the year purchased. They can also be transferred to others or used as a credit towards any other sail or cruise.