Basic Cruise and Learn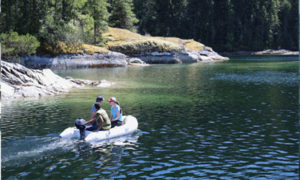 The Basic Cruise and Learn actually combines two levels into one; the Competent Crew and the Day Skipper. The resulting certification is the CYA or Sail Canada Basic Cruising Standard. This live-aboard course is the best way to learn cruising. After all, you are Cruising while you are Learning.
With the experiences that you encounter and the instruction you receive during the 5 day cruise, you will gain the knowledge and confidence to skipper a boat on your own.
The course fees include accommodation and meals aboard the yacht, the services of a certified instructor, course manual and learning materials, exam, log book and certification. You will be expected to bring a sleeping bag, towel and washcloth. We supply pillows. We can also supply PFD's. Bring your own rain gear. However, we may have some gear available depending on size. There are no other costs other than what you may wish to spend while ashore.
We can send you the manual before you come for the course. Studying beforehand is highly recommended as it allows you more time to enjoy the experience of cruising and to concentrate on developing your sailing and cruising skills.
Read the complete course standard HERE.
September 11 – 15 — SPACE AVAILABLE NOW— Inquire or Book Now
5-Day Basic Cruise & Learn itinerary
Typical, but like the Pirate's Code, more like "guidelines"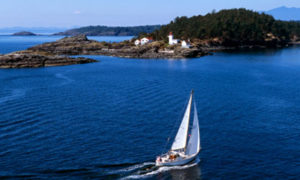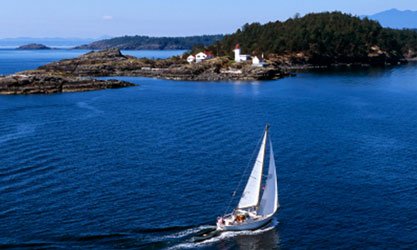 Day one
After meeting at the boat at 10 AM, we spend time to get acquainted with the boat and the safety equipment. A quick review of the tides, currents and weather forecasts will prepare us for the day's itinerary. On deck, we will get an introduction to sailing terminology and after going over the procedures for working as a team, we will cast off and get underway.
Once away from the dock, everyone will have an opportunity to take over the helm and get a feel for the boat under power. It is also a good time to go over the "Rules of the Road" (the rules to follow to avoid a collision). Next, it's time to set sail for our evening destination.
Along the way, we can break into a watch system and discuss how to share the duties and responsibilities. Cruising is a fantastic lifestyle and to keep it safe and enjoyable for everyone, there are certain tasks and procedures to learn. It works best when everyone shares in the tasks to keep the ship running smoothly. We had to do it this way after flogging was abolished. 🙂
As we cruise along, we can go over the basic sailing terms and as a navigation lesson, all take turns reading the charts and taking a fix to keep our position known.
Depending on our progress, we can anchor at Sidney Island or Portland Island. Then, it's time for dinner and enjoying the sunset. Relax and enjoy the rest of the evening. You've had a busy day.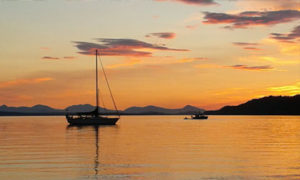 Day two
Morning coffee and relax in the cockpit. Enjoy it. This is a beautiful time of day and what a perfect place to be. After breakfast, there is an option to have a short hike on the island. These islands are protected marine parks and part of the national park system. The scenery is awesome.
After a weather and tide check we will weigh anchor and set sail for Galliano Island. Once under way, it is time to learn sail trimming and practice sailing maneuvers. Everyone gets a turn to be captain. This is where your true personality will show itself. It may be a surprise.
During the cruise, we will have breakfasts and dinners at anchor while lunch is normally served underway. The lessons during the day will vary and are quite often determined by the wind conditions and location. The main thing is that we are learning what it takes to cruise safely and the lessons come up naturally as we need to do them. It's fun that way and makes for an easy way to learn. Our destination is Montague Harbour on Galliano Island where we can either anchor or tie to a mooring buoy. This is also a marine park and if the conditions are right, there is an opportunity to take a short hike to one of the prettiest white shell beaches anywhere and watch the best sunset you have ever seen. I am not kidding.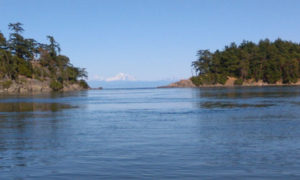 Day three
In the morning, we will have a short classroom session going over navigation, sailing theory, and weather forecasting (very important for us sailors). After getting underway, it will be more sailing maneuvers and we can discuss handling different kinds of emergencies. There might even be a surprise crew-overboard drill. We accept all eager volunteers.
After crossing the busy ferry routes near Active Pass, we will transit Navy Channel and eventually work our way through a tricky passage into a beautiful anchorage called Winter Cove on Saturna Island. This is also a Marine Park and a traditional location for First Nations people. History abounds. On shore there is a short hike to Boat Passage, a narrow opening between two islands where the tidal currents rage. You will see great views of Georgia Strait, the North Shore Mountains and snow-capped Mount Baker.
Generally, on these Cruise and Learns, there is enough material covered during the day that it is not necessary to work after dinner. The evening is a good time to relax and enjoy yourself.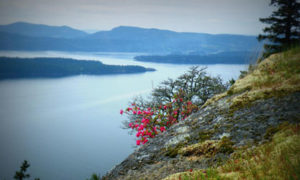 Day four
Ho-hum, another perfect day in paradise. After Coffee and breakfast, it's time to discuss things we have not yet covered and look at things that might be on the exam (oops! sorry to mention the "E" word, but it is a course after all). Once underway, we'll make our way to Bedwell Harbour on South Pender Island.
From Plumper Sound to Boundary Pass there is a good chance of sighting whales and dolphins so be on the lookout.
As the trip progresses you will notice an interesting shift. The instructor is doing less and the students are doing more. This is not because the instructor is lazy and good-for-nothin'. Well maybe that; but mostly it is the natural course of events. As the days pass, you will become more and more confident in sailing the boat and understanding what it takes to cruise safely and have fun while doing it. Congratulations, you are becoming a sailor (eye patch optional).
After mooring in Bedwell Harbour, there is an opportunity to go to Poet's Cove, a picturesque resort with showers, swimming pools and a bar. But let's not go crazy. There's that "E" thing I mentioned earlier.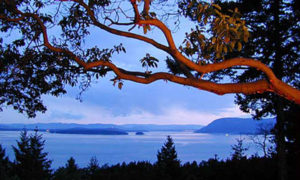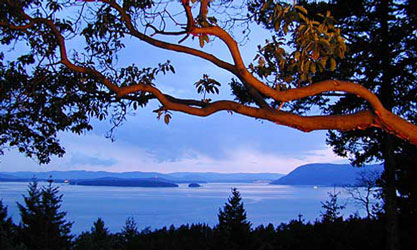 Day five
This is your time to shine. The plan is to get home and the trip plan is up to you. Now is the time to put everything you have learned to practice. The destination is Oak Bay and arrival time is 1600 hours – that's 4 PM in sailor talk. There will be tides, currents, vessel traffic (big ones) and lots of sailing. Watch for whales in Haro Strait, then we'll pick our way through Baynes Channel to arrive safely back home. Wow! That was fun.