OVERNIGHT SKIPPERED CHARTERS
Overnight trips: A Skippered Charter is a great way to discover sailing and experience coastal cruising.
The pace will be as leisurely as the group decides. Unless you are a family group, 4 persons is a good number for the Beneteau, as there will also be a Skipper/Instructor accompanying you.
The emphasis will be on giving all participants a "hands-on" sailing experience so that they might feel more confident and safe on the water. No prior boating experience is required. You will be guided by a certified instructor.
Even for those with previous experience, a skipper-assisted cruise will be valuable for learning new things and getting more practice on the water.
You can check out what a typical cruise would be like HERE.
To see what dates are available CONTACT US.
PRICING – 2017
DATES / SEASON
PRICE PER DAY*
April 15 – June 25
Spring
$725
June 26 – September 30
Summer
$775
October 1 – April 14
Winter
$675
*The above prices (per day) are in Canadian dollars and include skipper. They do not include a 5% tax.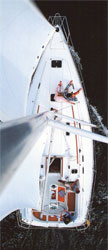 What is included: sailing instruction, all park permits and mooring fees, and all items necessary for cruising and living aboard, such as pillows, pillow cases, sheets and blankets (or sleeping bags), towels and wet weather gear (if sizing available).
What is not included: food and drinks are not included. You may choose to do the provisioning for crew and skipper yourself. Provisioning plans are available. We can supply the provisioning and meal plan for you for $35.00 per person per day.
We cruise all year around – as long as there are good winds and interested sailors. Our overnight cruises generally depart by 10 a.m and return by 5 p.m.
To see what dates are available CONTACT US.
Advantages of a skippered charter versus a bareboat rental: an experienced skipper who is completely familiar with the inner working of the vessel can save you time getting acquainted with the boat and in handling the little "emergencies" that can occur while cruising. The skipper can also guide you to the best anchorages and local winds, and answer many of your questions about wildlife, vegetation and local history, or even reveal where whales might be found. But most important, your skipper will reduce your stress level so you can relax and enjoy the cruise knowing that you will not be charged extra for insurance and you will not be held responsible for any damage incurred while on the cruise.
Cruising is all about great food, good company, pleasant surroundings and time to enjoy it all. The Beneteau 351 has two private cabins, a fully equipped galley and features a large comfortable saloon. The cockpit has a dodger and a bimini to shelter you from the sun and rain. Everyone is allowed to participate in sailing as much or little as they like but we all share the cooking and clean-up duties.
Layout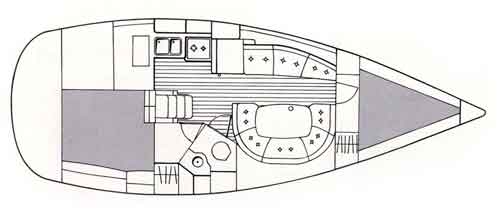 Beneteau 351 – Oceanis
The Ibis is a modern and fully equipped ocean cruiser. Her self- furling main and jib (with all sheets leading back to the cockpit) make her fun and easy to sail. Navigational aids include auto-helm steering, radar, chart plotter and DSC radio. She sleeps 4 comfortably in two separate state rooms. For families and intimate groups another two persons can be accommodated in the spacious salon.
Creature comforts include a dodger and bimini to protect from wind, sun and spray. Her French designer has introduced a variety of features which make for an extremely spacious and comfortable boat for her size. For example, her large cockpit has a table with built-in ice chest. There are also many windows and sky lights, all with shades. Ibis's walk-through stern features a swim platform which is especially useful for boarding the inflatable, for swimming, diving, and for retrieving crab traps.
An inflatable dinghy with outboard accompanies this vessel on full-day and overnight trips.