DAY SAILS
Sailing. Have you ever wondered what the fascination is all about? Here is your chance! Our vessel is a Beneteau 351 moored in Oak Bay (a 10 minute scenic drive along the ocean from downtown Victoria). You can choose a half-day or whole day sail in and around these protected waters. Sailing experience is not a requirement.
As a fellow sailor you can choose to sit back and let us handle the boat, or you can participate fully in all aspects of sailing and taking over the helm if you like. You will be introduced to basic sailing skills and safety at sea. Your Skipper, in addition to being a Certified Cruising Instructor, is also an experienced naturalist who will be happy to answer questions you may have about the birds and animals you will be seeing.
Before each departure we spend a half hour or so familiarizing everyone with the safety features and basic operation of our boat, including emergency procedures. We also introduce you to area charts which allows us to plan our trip and discuss sailing options. Our "hands-on" approach will have you sailing this beautiful yacht sooner than you think.
PRICING
Conditions
Half-Day
Full-Day
Booking per person
(Contact us for availability)
$100 / person
$160 / person
Exclusive use of boat with instructor
(6 person max.)
$450
$725
*The above prices are in Canadian dollars and include skipper. They do not include a 5% tax.
Just a single or double? Don't worry, we can find a compatible group for you.
HALF-DAY AND FULL-DAY SAILS
Adventures: if you have a half day to spend, we could sail around the Discovery and Chatham Islands. These are among the loveliest of the Gulf Islands – solitary, wild, and natural, and set against a backdrop of snow-capped mountains, featuring Mount Baker and the Olympic Mountains!
Half-Day Sails (3 hours) typically run between 9:00 AM to 12:00 PM or from 1:30 PM to 4:30 PM.
Having a full day allows extra time for lunch and refreshments while anchored in a secluded cove among the islands. If you desire, we can go ashore to hike and explore.
Full-Day Sails will usually go from 9:00 AM to 4:00 PM.
The advantage of departing from Oak Bay Marina is that this area features the most reliable winds for sailing to be found around southern Vancouver Island. Oak Bay is especially popular with boaters because of the many islands which offer protection from the prevailing winds and waves, and provide sheltered anchorages and fun places to explore. For wildlife enthusiasts, the marine ecological reserves are home to many seals, eagles, and marine birds as well as the occasional sea lion and whale. If more challenging sailing conditions are desired there is the choice of sailing the open waters of Juan de Fuca Strait or Haro Strait.
OAK BAY DEPARTURE POINT
For day sails and cruises, Ibis, our main yacht leaves from the end of "C" dock at Oak Bay Marina. This is the first dock you will encounter, just to the right of the bottom of the ramp leading down to the water (if you look to the left of the ramp, you may see splashing seals begging to be fed).
Food and drinks are available at the coffee shop on the bottom level of the marina building and there is a fine dining restaurant overlooking the harbour on the second level. Good bus and taxi service from downtown is available. If you do have your own vehicle, free and ample parking is available at the Marina.
Directions to the boat (PDF)
WHAT TO BRING
The clothing you choose will be dependent on the weather for that day. Remember that it can be cooler on the water than it is on land. Bring an extra layer that should include a windbreaker of some kind. Be sure to have deck shoes or runners, preferably with a non-marking sole. The Ibis has a warm, comfortable cabin and there is protection in the cockpit under a dodger and bimini. Sunglasses and sunscreen are a must on bright days. If you are coming for the full day, bring a lunch.
We supply life jackets, refreshments, treats and a friendly skipper.
The Vessel
"The Ibis" is a graceful 35 foot Beneteau Oceanis 351 and is classified as a performance cruiser. She is spacious, comfortable and very stable. All sails are self-furling with all the controls leading back to the cockpit which make her fun and easy to sail.
The cockpit is protected by a dodger over the companionway and the "Bimini" offers overhead protection for the skipper at the helm.
The "Ibis" Beneteau 35 sloop
WHO IS IT FOR?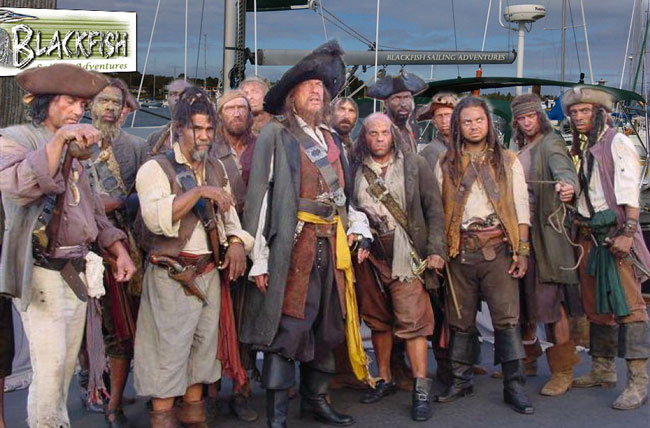 No matter who you "arrr", you'll enjoy sailing with Blackfish Sailing Adventures!
Note: we cannot carry this many at one time and firearms are not allowed on board. (This was a particularly troublesome bunch)